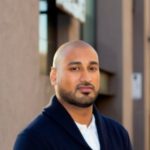 Today on the Sales Success Stories podcast while you're waiting for the next interview episode with a number one top-performing sales professional I've got the audio from another presentation at the 2018 Sales Success Summit that I'd like to share with you.
What's really ironic about this is that I also just finished recording today's tip for the Daily Sales Tips podcast, and it was about "Assignment Selling." Who knows how much that idea may have been influenced by Justin and this presentation, but in thinking about what I might be able to share with you today that would be valuable this came up and the parallels are insane. So after you listen to this I'd encourage you also to go listen to tip #542 on the Daily Sales Tips podcast and also is pretty relevant as well.
With that, here's Justin Bridgemohan, the star of episode #3 on this podcast and also a contributor to the first Sales Success Stories book where he shared stories about Competitiveness, Confidence, and Charisma. Here's Justin:
Watch Justin's presentation on Vimeo
Justin Bridgemohan's full interview on Sales Success Stories
I just realized that directing you to the resources from these bonus episodes is a little more challenging than the interview episodes. With those, you can always refer to the episode number or the guests name. So in the case of Justin if you were to go to top1.fm/3 for episode 3 or top1.fm/justin-bridgemohan you'd find all of the notes, resources, and some quotes from his interview. In this case, I'd suggest you go to top1.fm and just follow the link at the top to "All Episodes" There you'll find an easy way to navigate all of the previous interview episodes, bonus episodes like this and more. The details for this bonus episode will have those links to the Sales Success Stories book that Justin was a part of. We'll have a link to this actual presentation if you want to see the visuals, as well as the Daily Sales Tips episode #542 and 37 that I mentioned at the beginning of this episode.
Hopefully, that helps make things a little bit easier to navigate. We try and make it as easy as we can for you to get to the resources you need at top1.fm. Visit that site, and subscribe to the listener list while you're there. That way you'll always know what's going on. Especially around the now sold out Sales Success Summit coming to Austin in October. We'll be making some pretty big announcements on that front here in the next few weeks and those who are subscribed and on the listener list are always the first to hear about those opportunities and this is going to be a great one.
One more time, top1.fm. Easy.
Then I'll talk to you again next week on another killer interview episode. Thanks for listening!